Your bed and mattress may have reached retirement. Now may be the time to throw it out. But you do not need to say goodbye to your faithful old mattress and bed when you can upcycle it.
Most people feel confused of what to do with their old mattresses and beds. If you are one of them, keep on reading this guide to disposing of mattresses, which explains Mattresses and bed Removal in London.
How to Dispose of Your Old Mattress?
There might be different options for removing that old mattress. While some of them are expensive, damaging to the environment and illegal, there are other ways you can get rid of your mattress and bed. Following are the most effective, eco-friendly methods of disposing of your old bed and mattress.
Most local councils offer a bulky waste collection and disposal service, including beds and mattresses. While it can cost you an arm and a leg, and often there is no guarantee that your mattress would not end up in landfill, some local authorities claim that they will recycle the waste if possible.
Some councils offer bulky-waste collection free of charge. However, they are very much scarce. Most charge a particular fee to collect your bulky waste, which could be costly.
For those who live in Wales or England, they can find out how much their local councils will charge for bulky waste collection. All they need to do is to type the postcode in the gov.uk website. For Scotland or Northern Ireland residents, they should check their local council's website and search for the terms "bulky waste collection and disposal".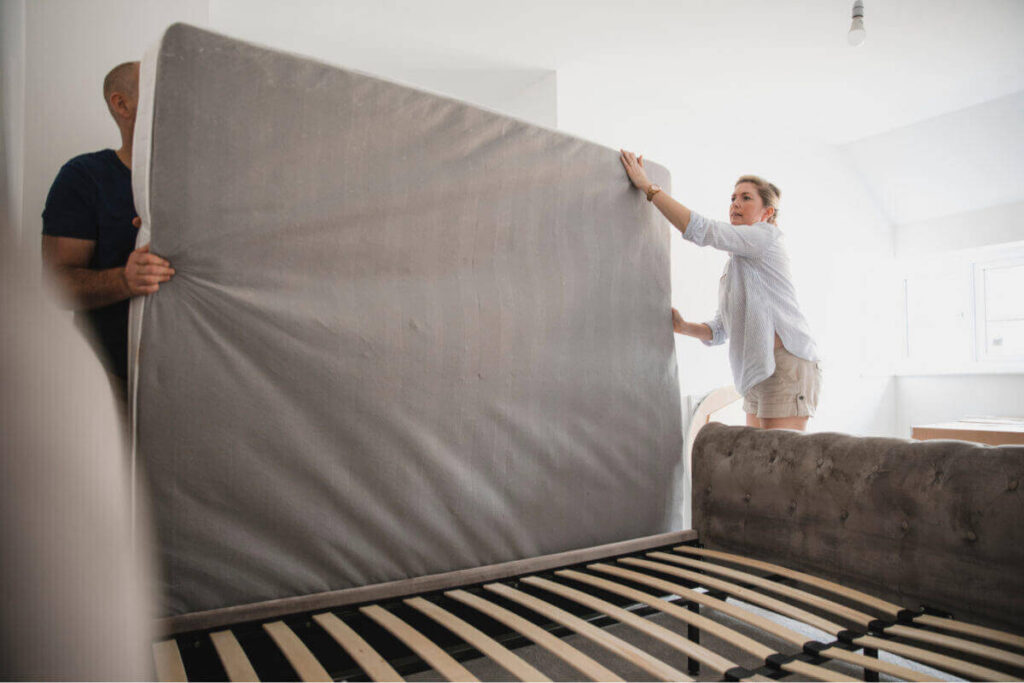 Having the council collect your old bed and mattress can be convenient. However, you need to make sure you read the terms & conditions before signing up for anything. Many of them charge different prices depending on the number and volume of bulky waste they will collect. Remember that a mattress and a bed frame will count as at least two items. Sometimes, you may even need to leave your waste items in a designated spot to ensure collection and removal.
Can you take them to the local tip?
Your local tip may accept your old mattresses. However, to get it there you will need a reasonably sized vehicle, which has enough space to accommodate the mattress. In case you have a vehicle with very small boot, you might find this process a little effortful.
And even if you manage taking your mattress to the tip, it may end up in landfill anyway. You might decide you would rather take it to a dedicated recycling facility. You may also want to pay for the convenience fee charged by the council or a waste disposal company.
Is it possible to recycle your old mattress and bed?
Some parts of your mattress or bed may be recyclable. It is possible that all of the items will be recyclable. While mattress and bed recycling are a labour-intensive process, more and more facilities are growing in the UK. They will help you break down the parts of your mattress into recyclable components to create a reusable item.
Apart from taking your old bed and mattress to your local recycling centre on your own, the best means to ensure they are recycled properly is to pay for their collection. Whether you choose to use the help of the local council, a waste removal company, or the company delivering your new mattress, ensure they recycle your items properly.
Can you donate your old mattress and bed?
Maybe your bed and mattress are still in good condition. Then why not donate them to your local charity or give them away? Thus, you can help those in need, while ensuring that the items do not end up in landfill.
The British Heart Foundation resells old mattresses. There are various charities that accept mattress donations. So, if there is a cause you want to support, it is worth contacting one of those charities. At least you know someone in need will use your old mattress or bed.
These organizations are responsible for collecting your old mattress or bed for free. However, they might request you to send images first. This is to prove that the items are of acceptable quality. Any organization accepting your old mattress donation will want it to be ideal for use, with the fire label intact.
There is another way to ensure your mattress does not fill up the landfill's space is to use a non-profit initiative, or any local equivalent group. They can put you in touch with people in the local area who need a second-hand mattress.
N.B: If your mattress is not used for long, you may be able to give it back. Check out with your mattress supplier if they can take it and pay you the money back.
Things Not to Do During Mattress and Bed Removal Process
It is never a good idea to burn your mattress. A mattress fire is hard to control and the fumes could be damaging to the environment and living beings. Mattress and Bed Removal
You may use a skip hire company to remove your old bed and mattress. This is also not a good option – by doing so you are adding to the landfill problem.
Never dispose of your old bed and mattress by putting them in someone else's skip. It is even worse if you abandon these two items at the side of the road. Apart from being environmentally damaging, fly-tipping is illegal, which could lead you to the road of penalty.
What You Need to Know About Mattress and Bed Removal
Do you know that a bed can be disassembled and removed? Do you know how much it will cost to have a bed removed? Do you know how the removal men will take the bed apart?
How much does it cost to remove a bed frame?
When you decide to have your bed frame ripped out, you want to know how much it's going to cost you. It can vary from a few dollars to several thousand, depending on the size of the bed. You might also have to pay for the disposal of the mattress.
Aside from the cost of the actual removal of the bed frame, you will have to shell out for the cost of the disposal of the mattress. That's because most mattress removal services charge a fee for their services. They may also offer you a discount if you get rid of more than one mattress at once.
The average homeowner spends about $50 to $145 on bed and mattress removal. However, the actual cost of disposal is more dependent on your location and your specific needs. For example, a queen-size bed with a box spring and foundation may cost between $100 and $250, while a full-sized king-size bed might be closer to $175.
Do removal men take beds apart?
One of the trickier aspects of moving is disassembling your old furniture. You may have to do this on your own, or you can call a removal company to do it for you. Depending on how you are doing it, you may want to consider hiring a reputable company with experience taking apart large items of furniture. A removals company that takes care of the dirty work will save you the hassle of climbing through dusty, unreliable appliances and duct tape to keep your furniture together.
There are two main categories of beds, those that are made up of a single unit, such as a king-size bed, and those that are assembled from multiple parts, such as a bunk bed. A four poster bed, on the other hand, is a collection of wooden panels that are folded up into a sleeping space. These types of beds are more difficult to dismantle than a single unit.
A four poster bed is a pretty impressive feat of engineering, and one that requires special care when dismantling. The best way to dismantle a four poster bed is to hire a pro, but if you are going to attempt the task on your own, a few simple tips and tricks will help ensure your prized possession is in top notch shape when you move into your new place.
Can movers disassemble bed?
The process of disassembling a bed may not be included in your moving quote. It's important to ask your movers about this service before your move. Some movers will charge an additional fee if you choose to disassemble a bed.
During a move, a moving company will take apart furniture to ensure that the pieces fit through doorways. They will remove the headboard and footboard, and wrap the mattress in padding and plastic. The movers will then reassemble the items at your new home. This helps to reduce the amount of time you'll need to spend on the move.
Some of the items that require disassembly are dressers, desks, baby cribs, exercise equipment, and other large items. These items are bulky and heavy and require special handling. A moving company will have the tools and experience to remove them without damage.
If you're moving long-distance, you will need to disassemble some of your furniture to save space. Some companies will disassemble all of the pieces, while others will only assemble the more complicated items.
How much does it cost to remove a bed frame?
The cost of removing a bed frame depends on the size and weight of the bed. Generally, if the bed is metal, you can take it to a metal recycling center. If the frame is wooden, you may be able to donate it to a local thrift shop.
You can also sell it. You can use the fabric cover from the old bed frame to make cushions or curtains. You can also make new shelving out of the wood. You can sell it at a garage sale or online.
You should be prepared to remove the box spring as well. Most retailers will not take the mattress and frame together. You can also call a mattress removal service to pick it up. The average homeowner pays $50 to $145 for this service. You may also be tempted to hire a dumpster. However, this is a last resort. If you hire a company, they will charge you based on the load weight.
Final Thoughts
Bulky items disposal is a little tricky. If things are not handled carefully, it could lead to unexpected downtime, loss of money, and effort. While there are lots of ways to dispose of bulky waste, it pays to pick up the right direction. Mattress and Bed Removal
There are ways to dispose of waste that are harmful for the environment. On the other hand, eco-friendly ways of disposing of bulky waste are there too. Hopefully, you have found your answer of how to dispose of your old mattress and bed in the most effective manner. Mattress and Bed Removal